How the "Woke" Rich and Famous Breakup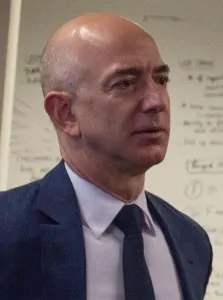 A few years ago, Gwyneth Paltrow and her beau told everyone that they were "consciously uncoupling," and they got a divorce.
Then, not too long ago, Jeff Bezos and his lady also announced they would be divorcing and would continue as "…friends partners in ventures and projects…" Vanity Fair magazine called it "the new conscious uncoupling."
What This Means For You
Why should you care about how you divorce, breakup, or "uncouple?"
Because when you get wrapped up in a bunch of drama, hatefulness, or fighting at the end of a relationship; you're wasting a LOT of time, energy, and probably money.
It's not only bad for you, but it's bad for your kids if you have them. And it's bad for your quality of life.
Do you like wasting time? How about money? If not, you probably want to be conscientious about how you get through the unpleasantness of severing ties with your once-upon-a-time beloved.
Nothing wastes more time or money than a disagreeable divorce.
How to Uncouple 101 – Get Woke
If you want to uncouple rather than fight your way through a separation, you have to do some serious work on yourself first.
You have to:
1) Find a way to recognize and let go of your pain and negative emotions of the situation without using your former sweetheart as a punching bag. Even if they are the cause of your pain and negative emotions.
2) Take responsibility for your part in the separation. Even if you're only 2% responsible, you have to recognize it. Because that's the only part you have any control over as you move forward.
3) Get familiar with the stories you tell yourself about how things got the way they did. And then eliminate or change ineffective thinking.
After that, you can think rationally (with or without your former partner) about how the agreements, you began the relationship with, don't exist anymore. And how you're going to move forward with new agreements. Or with no contact at all.
It's Not Easy But It's Worth It
Like many good things in life, you have to work at uncoupling. You don't get to have a Jerry Springer free-for-all. But it's worth it.
In the end, despite the pain and suffering, you will inevitably experience over the course of your breakup, you will come out better for making the process mindful.
That's because by breaking up mindfully, you will build your capacity to be mindful in all aspects of your life. And mindfulness is the foundation of every self-improvement method on the planet.
So, if you know you are going to split up and you want to get something really good out of the whole horrible thing.
Separate mindfully.
Uncouple yourself.
Need some help? Call me. We'll talk.

Contact me now to set up your free 15-minute phone consultation.